Frequently Asked Dental Questions – Fort Mill, SC
Getting You the Answers You Need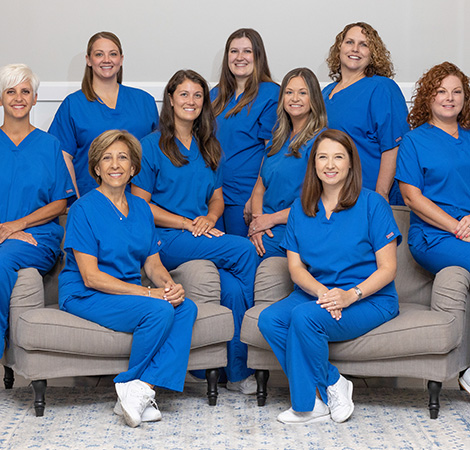 Want to learn more about dentistry? Have questions about why certain dental treatments are recommended over others? Interested in learning what you can do to improve your smile? These are all common questions patients ask, and we want to be your go-to for clear and concise answers. Review the frequently asked dental questions in Fort Mill listed below and call our dental office to learn more.
How often should I visit the dentist?
According to the American Dental Association (ADA) as well as our team at Jasper Dentistry, patients are encouraged to visit the dentist at least twice each year. A visit every six months allows for a complete examination of the oral anatomy using enhanced imaging and diagnostics. By identifying infections, tooth decay, gum disease, and damage early on, restorative and emergency dental care can be minimized or avoided in the future.
In some cases where there are gum or bone loss issues or poor oral hygiene factors, we may recommend a teeth cleaning every 3 or 4 months. Remember, our goal is your optimal health and these treatment recommendations are customized for your needs. If we do recommend more frequent teeth cleanings, you will still have radiographs only once a year and two examinations per year.
How should I plan to replace a missing tooth?
There are three ways a person can replace a missing tooth – dental bridges, dentures, or dental implants. When there is a gap in the smile, it can make speaking, eating, and smiling difficult. Using any one of these solutions to repair and rebuild your smile will only serve to improve self-esteem and functionality. Based on your individual preference, density of your jaw bone, budget, oral and overall health, our team will help you decide which method is right for you.
Will you see my child at your dental practice?
Yes! Dr. Jasper, Dr. Anderson, and our team enjoy taking care of young smiles. From infancy to adolescence, we believe all teeth deserve the highest quality care. We are here to help your child transition throughout each stage of life, monitoring their oral growth and development. We'll not only work to help them maintain a cavity-free, beautifully aligned smile, but we'll also provide helpful tips to make at-home oral hygiene easy and stress-free. Ask us today about coordinating your next appointment with your little one!
When should my child have their first dentist appointment?
It is recommended that your child's first dentist appointment occur either by the time their first tooth erupts or before they reach the age of one. This initial visit will be more about introducing them to the dental office and its many sights, sounds, and smells. We'll also use this time to help them become familiar with our team. Over the years, we'll perform gentle exams and cleanings to make sure their teeth and gum development are on the right track.
Are bleeding gums serious?
Yes, bleeding gums should be taken seriously, as it is a common sign of gum disease. When inflammation and infection develop within the soft oral tissues, it can lead to bone and tooth loss if left untreated. Gum disease may also lead to heart conditions or worsen heart conditions already present because the mouth is the "gateway to the heart". Early stages of gum disease can be reversed if good oral hygiene habits are practiced at home and regular visits to the dentist for cleanings occur. Should you notice bleeding when brushing and flossing, call to schedule an appointment with our team right away.
Do you accept my dental insurance?
Yes! We are happy to welcome your dental insurance plan and are in-network with Delta Dental. We will work to maximize your benefits to help you save the most money while also filing any paperwork and claims. You can also count on us to provide additional financing opportunities should you need assistance.