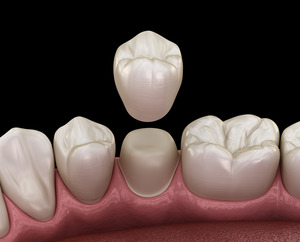 A dental crown is a common type of dental restoration that often plays an important role in building a tooth back up to its natural form. They can be used for a multitude of reasons, like to fix a fractured tooth or to cover a tooth after a root canal. But what sort of crown should YOU get? The available options can vary depending on your unique situation. Below are a few examples of some common materials used to make crowns, as well as the pros and cons of each one.
Full Porcelain
Nowadays, it's common for crowns to be made completely out of porcelain. There are many aesthetic advantages to using this material. Not only can porcelain closely mimic the appearance of your enamel, but it's also stain-resistant. However, it should be noted that porcelain crowns are somewhat less durable than other materials. Therefore, they are usually only used for front teeth.
If you have a damaged or decayed tooth that people will see when you smile, a porcelain crown may be recommended.
Zirconia
Zirconia can also be shaded to match the color of your natural teeth, making it a good choice for patients who want to make sure their smile looks as natural as can be. Plus, zirconia also offers great strength and durability compared to full porcelain crowns.
Like porcelain, zirconia can be a viable choice if you plan on getting a crown for a tooth that's likely to be seen by others. This is the most commonly used crown in our office.
Gold
Gold is notable for its ability to last a long time, and it's generally very strong even when a relatively thin layer is used. On the other hand, it looks quite different from natural enamel, so it's highly likely that people will notice that you have a gold crown. Additionally, the tooth in question may be unusually sensitive for a while since gold can easily conduct heat.
Generally speaking, crowns made of gold (and other types of metal) are best suited for teeth near the back of the mouth where they're less likely to be seen by anyone besides your dentist.
Different practices offer different kinds of materials for crowns. When you visit our office, we are happy to discuss your options for restoring your tooth as well as the advantages of each option.
About the Author
Dr. Michele Jasper has been practicing dentistry in Fort Mill since 1994. She is a proud graduate of the West Virginia University School of Dentistry. She is happy to be able to offer custom-fit dental crowns as a way to help patients with significantly damaged teeth. To schedule a consultation with Dr. Jasper at Jasper Dentistry, visit her website or call (803) 548-4353.